Monsoon Lightning Poses Fire Threat to Phoenix Homes
6/3/2021 (Permalink)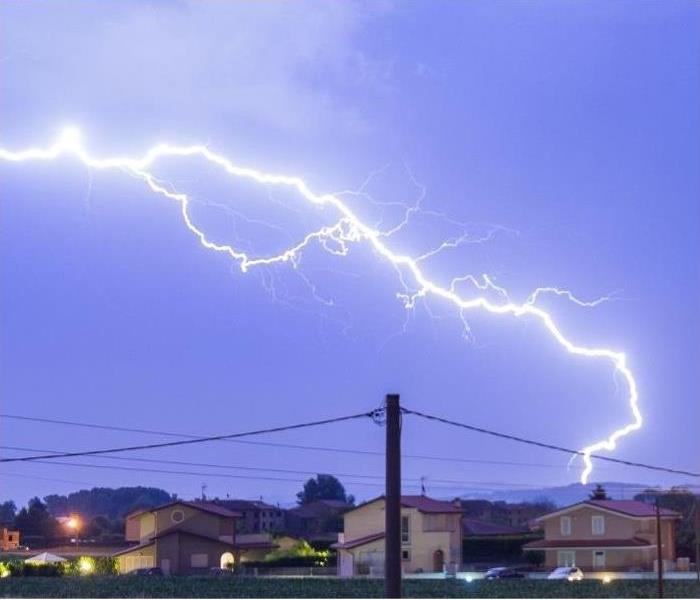 In addition to torrential rain, monsoons can bring damage to your home through lightning strikes resulting in fire. If your home has been hit by lightning, you should call the fire department immediately. Learn what to do if your home experiences a fire and you need damage repair quickly.
Lightning strike fires
It's common for fires to start in the attic or inside walls of homes when lightning strikes directly. These fires inside enclosed spaces might not be visible when they first start. Often, lightning passes through house branches and uses more than one path to ground at a time. It can jump from one conductive path to another as well. Lightning can quickly start a fire and create fire damage to your Phoenix home. Once the fire is out, the damage can continue due to smoke and soot. You'll need to work with a professional to help recover from the fire.
How SERVPRO helps you recover from a lightning strike
Getting the fire extinguished is of course your first priority. Once the fire department leaves, however, your trouble isn't over yet, as now you're faced with fire damage cleanup. SERVPRO can help you clean up this soot covering in your home and prevent additional damages. Once you contact us, we waste no time in getting to your home to help you. Some soot residues are more straightforward to clean than others. Each fire goes through stages and crates both dry and wet smoke. Wet smoke is usually more difficult to clean.
More kinds of materials can be restored when exposed to dry smoke than wet. Dry smoke residues contain fewer aerosols and deposit small, dry particles on surfaces. It also does not stain surfaces as deeply as wet smoke, plus the odor is not as pungent. SERVPRO staff use cleaning procedures that are less aggressive to get rid of residues from dry smoke.
Restoration after a fire
Restoration, when wet smoke residues are present, is harder to clean. Wet smoke usually has a high number of aerosols like solvents, varnishes, and other liquid components. During a slow-burning fire, air currents do not drive the smoke from the fire's heat. Wet smoke also moves slowly and has time to get into crevices and enclosed areas which generally would not get contaminated by a fire that is burning fast. SERVPRO follows a very specific fire restoration process to address your home's contents and get your house back to preloss condition.
Unfortunately, sometimes contents exposed to wet smoke and a smoldering fire cannot be restored. Aerosols found in wet smoke penetrate and stain finished surfaces, and unfinished surfaces absorbed and entrap the residues. Our technicians will work with you to give you a complete understanding of what is salvageable and what needs to be removed. We'll communicate with you throughout the entire process, so you have a complete understanding of what is happening.
SERVPRO of East Phoenix knows how to clean up all kinds of smoke residues, so your home is thoroughly restored after a fire. Contact us at (602) 507-6163 as soon as the fire is out, and we'll get to work cleaning up the damage to your home.