Smoke and Fire Damage Cleanup in Your Phoenix Home After Cell Phone Fire
1/5/2018 (Permalink)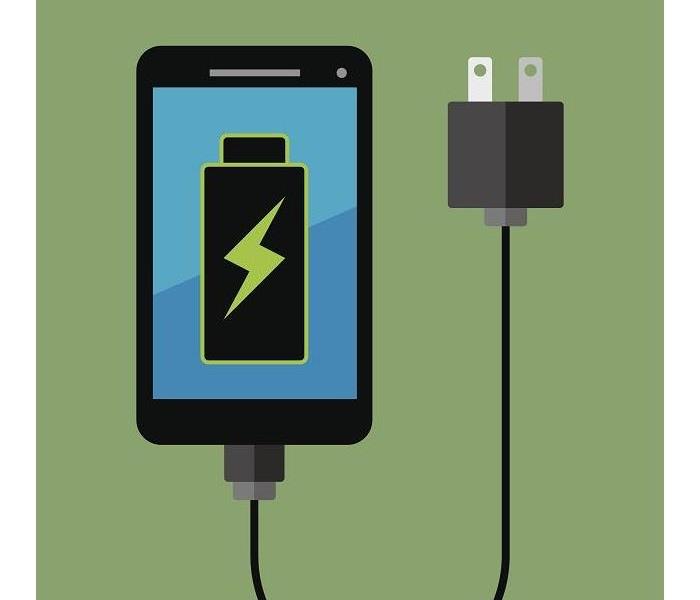 Cell phones can get overheated while charging if they do not have enough room to properly ventilate.
The Dangers of a House Fire Caused by Phones and Chargers
Fires caused by electronic devices have been on the rise, and Phoenix is not exempt. Tablet and cell phone chargers need space to breathe, as they put off a significant amount of heat during charging cycles which have to be dispersed with the right amount of ventilation. Devices that are covered up and not able to breathe can build up the heat and lead to igniting a fire. Lithium-ion batteries in these devices have containers that are pressurized and can rupture if the temperature goes up too fast, or melt down if they are heated for a long time.
Fires and fire damage in your Phoenix home from your electronic devices are entirely avoidable. Not charging your phone in your bed, and making sure all devices are on a hard, flat surface while charging helps avoid these disasters. If a fire has started from an overheated cell phone or tablet, you could be looking at much cleanup that is best left to the professionals at SERVPRO. We have the experience and training to know how to best clean up your home after a fire.
During a fire, smoke particles like those from burning plastics which become electrically charged are known as ionization. Surfaces with the opposite electrical charge may attract smoke residues that are strongly charged since opposite charges attract. The charge is present in many plastics and synthetic fibers.
At SERVPRO, we understand that because of ionization, smoke webs can be found on various surfaces in your home. Residues can create long strings of smoke particles that are ionized which assemble at junctions in ceilings and walls or corners. Webs of smoke look just like cobwebs.
Smoke particles that are ionized, cluster on metal surfaces. Charged smoke particles are attracted to metal surfaces through magnetism, like coat hangers and plumbing pipes. Smoke clearly outlines nail heads under drywall since their magnetic attraction remains effective, even with a covering of plaster and paint.
With the burning of plastic phones and covers, plus other similar materials like this in a bedroom perhaps, SERVPRO of East Phoenix knows that ionization is possible. You can rest assured that your home in Tempe, Arcadia, or East Phoenix can be cleaned and restored by our staff thoroughly when you reach out to us at (602) 507-6163.
Click here for tips on fire prevention in Phoenix.