What to Do if Your Office Building is Infested with Mold
2/17/2022 (Permalink)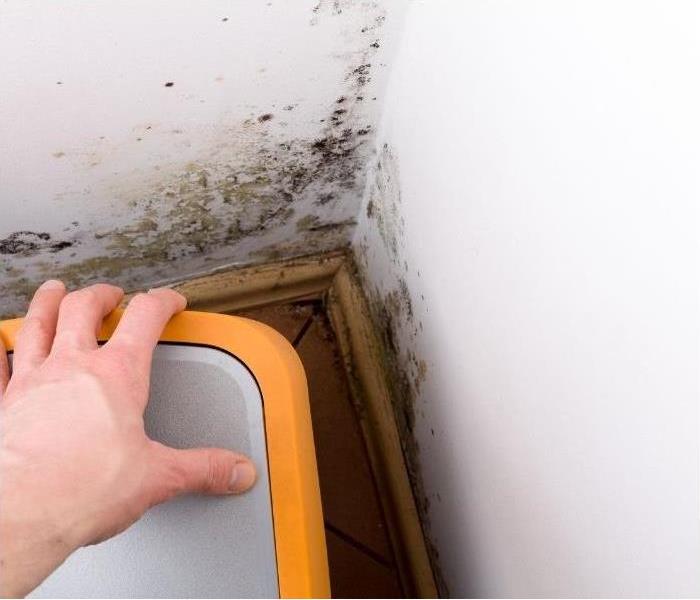 There's a lot to consider when owning an office building. The possibility of a mold infestation is not usually top of mind for commercial building owners since our climate typically isn't considered conducive to a mold threat. Unfortunately, mold infestation does happen to home and office buildings alike, for many reasons. Learn more about mold infestation and what to do if it strikes your place of business.
Office buildings can experience mold growth
While in general Phoenix has a drier climate and is less conducive to excessive mold growth, commercial mold damage can happen in any Phoenix business if there are enough moisture present and a source of food such as most building materials. Even a small amount of moisture that enters a building after a substantial rain or flood can quickly turn into a mold infestation if not properly addressed, which is where SERVPRO of East Phoenix can help.
Tackling mold damage in commercial buildings
Removing mold growth from a building means SERVPRO's restoration team must find and eliminate the source of a mold. The only way to prevent further growth and eliminate the threat of future mold infestations is to remove every trace of mold spores the team can find. This isn't as easy as it sounds, as mold spores are actually present everywhere, all the time. The challenge is to keep growth and infestation from happening and causing damage. SERVPRO technicians start with finding the moisture that allowed the first spores to expand and grow. Eliminating that pushes the mold to return to an inactive state because again, mold spores are everywhere, so total elimination of spores won't happen. Inactive mold spores also stop growing across or into surfaces, which stops damage from getting worse and prevents new damage to ceilings, walls, and floors. For any building material already infiltrated by mold, the most cost-effective method is to dispose of it. Drywall is often difficult to clean and digging mold out of it quickly compromises the structural integrity. SERVPRO will make the assessment and inform the building owner before any actions to remove materials are made.
After infested materials are removed
After removing all damaged material, our technicians spray the interior of the building with an anti-fungal agent to eliminate the spores as much as possible. After it dries, technicians will then wipe everything down to remove the now dead spores. If the odor has become an issue because of mold infestation, they will address any lingering musty odors that were a result of mold growth so that your commercial building returns to pre- mold infestation conditions. As experts in deodorization, SERVPRO of East Phoenix is trained to identify and eliminate offensive odors.
Let SERVPRO help with office mold issues

While it is impossible to eliminate all mold, SERVPRO of East Phoenix can help you remediate damage to your business and prevent growth in the future, as well as resulting odors. If you suspect a problem in your facility, call us today at (602) 507-6163.