How do Professionals Combat Odors After Commercial Water Damage to Your Phoenix Business?
2/6/2018 (Permalink)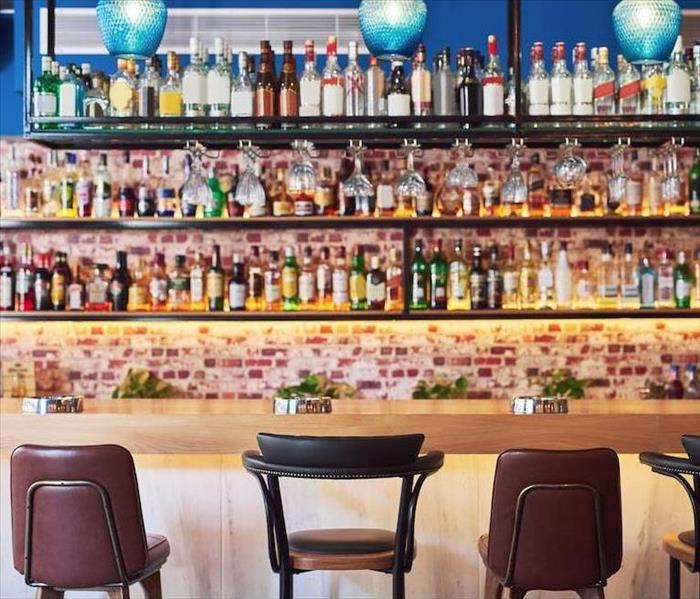 Patrons don't want to smell musty air when they come to unwind with a few drinks. Contact SERVPRO for an assessment and remediation.
Certified SERVPRO Technicians Use Multiple Methods to Eliminate Smells After a Water Damage Event
One of the most significant challenges after an occurrence of water damage to your commercial property is getting rid of the damp and musty odor. It is especially important if you own a bar, a restaurant or a clothing store.
Thankfully, professional restoration experts can eliminate such odors from your property after an occurrence of commercial water damage in Phoenix. Here at SERVPRO, we use a multi-approach method to combat odors after any water damage. A variety of deodorants and odor combating techniques can eliminate the odors in no time. Here are a few methods that work the best.
Multiple method approaches
Odors often come from different sources after a water damage incident. It can be challenging to find all the sources and determine a specific method to combat them individually. However, it can be easy to use multiple methods that use various deodorants to get a better result.
Our IICRC certified SERVPRO technicians use a combination of various types of deodorants that can combat most common smells after a commercial water damage event.
Various types of deodorants
Only one type of a deodorizing agent is not enough to combat smells from various sources. Different odors, both real and imaginary, need different deodorants.
Masking agents in time release beads are often used to cover up bad odors with a pleasant-smelling chemical. Professionals use these agents to combat both real and imaginary odors as well.
Pairing agents, on the other hand, combined with the odor-causing particles in the air and neutralize them. Once these agents combine with the particles in the air, they cause them to fall to the ground, which can be cleaned later on. These agents are often used in Ultra Low Volume foggers and wet foggers.
Electrically generated deodorizing agents such as Ozone gas are used after a move-out. The Ozone is a reactive molecule that can combine with the odor-causing particle and neutralize it. The technicians use this method if the odors have penetrated deeply in the surfaces.
A perfect combination of all these techniques and agents is essential to eliminate the odors from your commercial property after water damage.
Call SERVPRO of East Phoenix today at (602) 507-6163 to discuss your restoration needs with one of our professionals.
Click here for more about Phoenix.