When You Have Fire Damage in Your Home, You Need Help Fast
1/16/2020 (Permalink)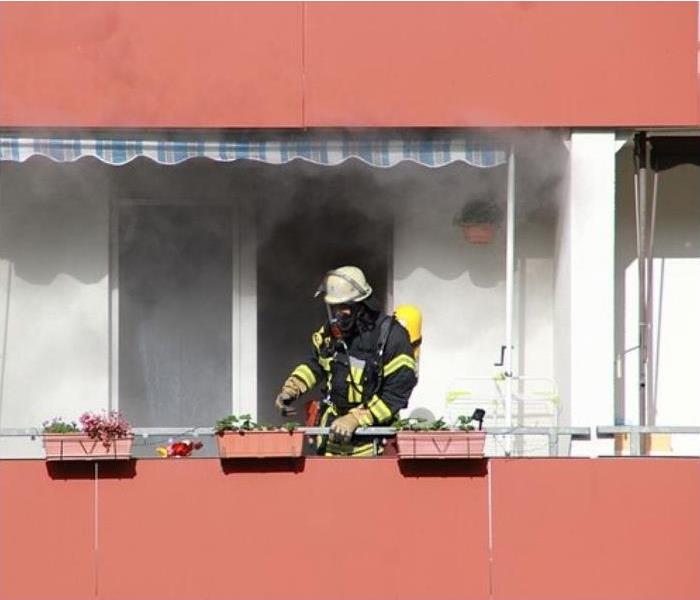 Home fires can be a devastating experience to a homeowner. Whether it is a substantial fire or even a small kitchen fire, the aftermath can be dramatic to deal with. Not only do homeowners have to face the damage done by the flames themselves, they also must address the impact of the damage done by firefighters to extinguish the flames. Fire damage, soot, smell, and water damage are all typical results of a house fire. It's essential to get a professional out as quickly as possible to address the situation. When you have fire damage to your home, you need help fast. SERVPRO of East Phoenix is the company to call with our 24-hour emergency restoration service.
We are faster to any disaster
This phrase is more than a catchy rhyme! SERVPRO of East Phoenix provides emergency cleaning and restoration services 24 hours a day, 7 days a week—including all holidays. You can expect an immediate response time, day, or night. We understand that time is of the essence when it comes to situations such as fire damage or water damage in your home. The more time that passes, the more extensive the long-term damage can be. It's not just a matter of inconvenience for homeowners when dealing with soot, smoke damage, and water damage; not addressing these issues quickly can make things worse. The professionals at SERVPRO of East Phoenix share your sense of urgency to get the situation addressed immediately.
Fire and water damage timeline
While the flames may be out, the damage remains and needs to be addressed. The water and other products used to extinguish the fire leave behind damage that needs to be done, and understanding the timeline to address the damage facilitates a better recovery. Here is a basic fire and water damage timeline to be aware of and illustrates why time is of the essence:
Within minutes of fire and water damage
Water quickly spreads throughout your home, saturating everything.
Water absorbs into walls, floors, and upholstery.
Furniture wood finishes may bleed and stain flooring.
Photos, books, and other papers start to swell and warp.
Within 24 hours:
Drywall begins to warp.
Metal surfaces begin to tarnish or rust.
Furniture starts to warp, swell, and crack.
Dyes and inks from cloth and paper goods spread and stain flooring and furniture.
A musty odor appears.
After 48 hours:
Mold and mildew may grow.
Doors, windows, and all wall studs swell and warp.
Paint begins to peel and blister.
Wood flooring warps.
After a week:
Restoration time and cost increase dramatically; replacing contaminated materials and structural rebuilding may be extensive.
Structural safety, mold growth, and biohazard contaminants pose serious risks to occupants.
Not all these things will happen in every case, but it's essential to know how quickly initial damage can spread and multiply to bigger issues, and why it's critical to work with pros like SERVPRO.
Why leaving it to the pros saves you time, money and stress
Our staff is highly trained in property damage restoration. From initial and ongoing training at SERVPRO's Corporate Training Facility to regular IICRC industry certifications, our staff is equipped with the knowledge to restore your property. We will come out quickly to assess the damage from flames, soot, and water, and provide a game plan so that you know exactly what we'll do to bring your home back to pre-fire condition as much as possible. The key to a successful restoration job is to quickly address the situation and jump into action. When you have fire damage in your home, you need help fast. Working with a company like SERVPRO of East Phoenix will save you time, money and stress. Don't trust your situation to just anyone. Call us at 602-507-6163 and get the job done right!