12 Common Household Molds That Need Remediation
10/7/2019 (Permalink)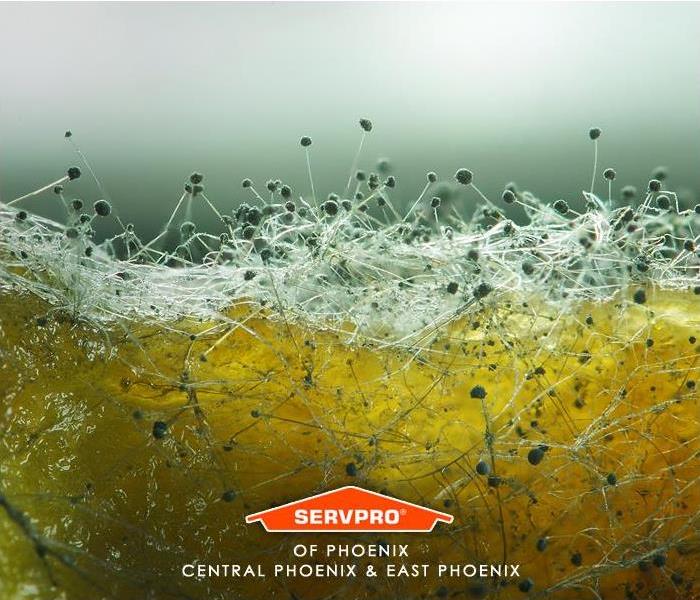 At SERVPRO of East Phoenix, we get a lot of calls for household mold remediation and we've seen it all. Mold takes on all kinds of colors and textures and they each have their own unique smells and bad effects, but did you know there 12 molds that are commonly found in households? We're going to review these 12 molds so that when you find it, you will know what you're dealing with.
1 - Acremonium
Our mold remediation specialists often find this common household mold in things within the home that hold moisture most of the time like draining pans, humidifiers and window sealants. It starts off small,l but evolves into a powder that comes in grey, white, orange, or pink. It has the reputation of being highly toxic and tends to grow next to black mold and other kinds of molds.
2 - Alternaria
This sneaky household mold is the most common, usually found in places like the bathroom shower or bathtubs or sinks. It features a velvet-like texture and has brown or dark green hairs coming out of it. Many people don't tolerate this mold so have a professional mold specialist come out and take care of it for you. it is noticed.
3 - Aspergillus
Here we have a mold that has 185 species that showcase all different kinds of colors. Aspergillus is one of the common household molds that creates thick layers on walls with their long spores that are flask-shaped. These spores are one of the reasons mold specialists in Phoenix must wear full gear and wrap all the furniture during mold removal process.The tiny spores will attach themselves to anything, anywhere quickly spreading all over and you won't even know it until it is too late.
4 - Aureobasidium
You will find Aureobasidium mostly on wooden surfaces. We highly recommend professional remediation for this common mold the second you spot it growing as it has a bad reputation. It will be pink, brown or black in color and don't even think about touching it.
5 - Chaetomium
This household mold will be found making a home where every there is a great deal of water damage. This musty smelling mold begins with a color of white or grey, but eventually turns black over time. It has a cotton like texture and should not be tolerated in any Phoenix household.
6 - Cladosporium
Cladosporium has generated a very bad reputation also, causing a lot of problems for a lot of people. It will be brown or army green colored and dons a texture that looks similar to suede. This mold prefers to live in fabric materials within the home like carpeting.
7 - Fusarium
Let's face it, all these molds have a bad reputation and Fusarium is not any different. It's the kind of nasty mold that grows on food and produces colors of pink, red or white. Well known to spread quickly so make sure to check what you eat because you don't want to be a person scorned by mold from in your home.
8 - Mucor
With a name that sounds like a Pokemon character, this common mold grows in patches that are real thick in shades of white. We tend to find it a lot within the damp carpeting near air conditioning units. It has been said that exposure to Mucor could leave you with a lot of unpleasantness.
9 - Penicillium
This mold likes to stand out and be different with it's blueish-green color. It has that soft velvet-like texture and will be found in water damaged things like a mattress or in the wallpaper. Penicillium has mold spores that have the ability to travel in the air all throughout the home, spreading uncontrollably and fast.
10 - Stachybotrys, AKA Black Mold
Stachybotrys, otherwise known as black mold is the bad boy of household molds. It's slimy and has a real dark green or black color and it likes to grow in really damp places that have been holding some moisture for weeks. Black mold requires professional mold remediation by someone who is trained and certified.
11 - Trichoderma
Trichoderma is a fungi mold that comes in 5 species that like to live behind or under wet things and areas that have a build up of condensation like wallpaper, fabric or filters within air conditioners. Most of the subspecies are non-pathogenic, but be warned, some produce mycotoxins.


12 - Ulocladium
Lastly, we have Ulocladium which is often times confused with some other types of mold which is another reason to call an expert on mold remediation. It has a black appearance and you can find it any room that has severe water damage.or excessive condensation like a bathroom or even basements.

Mold becomes a nasty issue because it is so difficult to get rid of and if you don't know what you are doing, it will only spread and usually pretty fast. Really take the time and research all the places in your Phoenix home where mold can or already started to grow.