How Arizona Climate Impacts Water Damage Remediation Services
9/11/2020 (Permalink)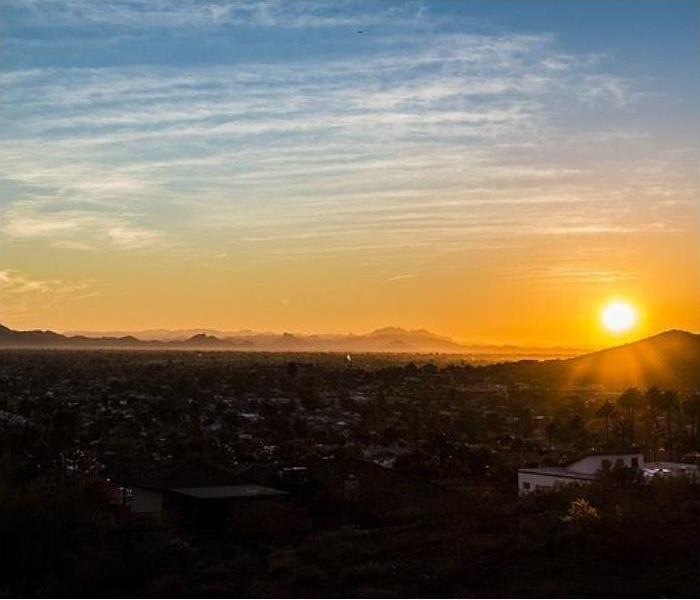 If you've been in Arizona more than a day, you've likely heard the comment "It's a dry heat" when people talk about our hot weather. While the desert climate tends to be drier than other parts of the country, water damage challenges still remain if you experience a flood or storm damage to your home or business. Here's how Arizona climate impacts water damage remediation services.
The desert climate
The Sonoran Desert is infamous for its hot, dry climate, often going for months at a time without measurable rainfall, then getting a substantial downpour during monsoons. Super dry, then super wet, it can wreak havoc on a home or business if damage occurs. While many would think that the dryness is ideal for water removal efforts in Phoenix, it can also carry with it some unusual challenges for restoration professionals, business owners and homeowners. The SERVPRO of East Phoenix team knows how to work with desert conditions and make the best use possible of their equipment in low humidity and high heat, and high humidity and heat during the monsoons.

How our climate can help with water removal efforts
One benefit to the climate in Phoenix when it comes to water removal efforts is drying and evaporation speed. Unless it's monsoon season, the air is typically hotter and drier than in almost any other part of the country, encouraging faster water evaporation rates and assisting SERVPRO's water extraction work. In addition, well-designed drainage systems across Phoenix usually counter flash flooding and help to prevent standing water from accumulating in most homes and building across the Valley, unless you're in a flood-prone area. Therefore, the water removal process often takes less time and energy to complete in Phoenix than in other parts of the country. Rooms, carpeting, drywall, etc. benefit from faster drying in low humidity, high heat conditions. Of course, water remediation equipment is still needed, but sometimes the drying process is a bit faster than it might be in more damp parts of the country.

How Arizona's climate can impede water damage remediation

While the desert climate may allow your home to dry faster, that same climate makes speed doubly important when it comes to water removal effort. Why? Threats of mold and structural water damage develop at a faster rate than in other parts of the country due to the rareness of moisture here in Arizona. Mold varieties common in Arizona are more resourceful, growing and maturing at a faster rate to capitalize on fast-drying water sources. Also, years of exposure to the excessively dry air here in Arizona makes many conventional building materials susceptible to rapid deterioration once soaked as they're typically quite dry; excessive moisture is quickly absorbed and can cause damage quickly. SERVPRO recognizes these risks and works to rid your home of excess moisture as quickly as possible to prevent further damage from occurring.

SERVPRO of East Phoenix is experienced water and flood damage mitigation and restoration in Arizona, offering services with the equipment and personnel necessary to address water damage as quickly and thoroughly as possible. Call us 24/7 at (602) 507-6163.