Reach Out to SERVPRO for Your Sewage Issues
11/15/2021 (Permalink)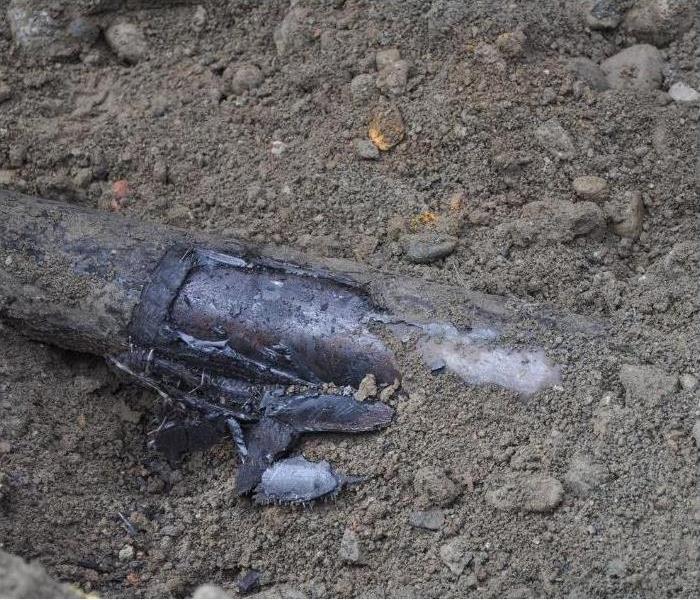 A sewer backup is an awful situation to deal with, and always happens at the most inconvenient time. The offensive odors and the potential for widespread property damage are just the beginning of the problem for homeowners. Cleanup requires a lot of time and arduous work and is definitely not for the queasy. If you experience a sewage backup issue, learn what to do to get it handled correctly and safely.
What to do when you have sewage issues
Water from sewer system backups can be dangerous. The water is very unsanitary and may contain bacteria and viruses; nothing you want to tackle! Special training and equipment for this kind of situation are necessary to safely clean this type of contamination. Sewage water contains many potentially harmful bacteria, so it's important to do the following should you have a sewage backup in your home or business:
Immediately keep the spread of sewage water to a minimum however possible.
Keep people and pets out of the affected area until thoroughly cleaned up.
Always wear protective clothing and gear while in the impacted area.
Open windows or doors to provide adequate ventilation, but don't run the air conditioning system.
Sewage backups take everyone by surprise as there's seldom much warning that an issue is lurking. Whether the backup is the result of a public sewer line issue or an overflowing or backed-up toilet, it's important to take the same precautions to control the damage. Before you do any sewer cleanup work, turn off the electrical power to the area. If the switch is anywhere near the water, wear rubber boots and gloves and use a wooden stick or spoon to flip the switch. NEVER touch any type of electrical outlet, switch, etc., if you're standing in water! If you're at all unsure, don't touch and wait for the professionals to show up!
Helpful tips for sewage backup
There are several other actions you should follow when dealing with a sewer backup, regardless of the source, until help arrives:
Don't use the water until you've had a safety inspection. Turn off the running water for showers and toilets as well as in your kitchen or any other area with access to water faucets.
Remove any uncontaminated belongings and furnishings from the area to lessen further damage.
If items are contaminated, better not to touch, but if you must, protective gear is a must. No exceptions!
Alert city authorities to the backup if it appears to be a public sewer issue.
Call in a water damage restoration professional like SERVPRO of East Phoenix who has the training and the tools to thoroughly clean and disinfect your home or building.
Contact your insurance company promptly to let them know of the sewage situation. Take pictures of the damage for insurance purposes before the belongings are cleaned or repaired so they can see the extent of the damages.
How we help with sewage issues
Sewage cleanup can involve several types of challenges depending on the type of water flooding you experience. "Gray water" or "black water" should be handled by trained professionals who know how to deal with sewage cleanup and restoration. Sewage backups should be considered an emergency and dealt with as quickly as possible to prevent damage and other issues. SERVPRO of East Phoenix technicians are the water damage restoration specialists with specific training and expertise to safely restore your home or business after a sewage problem. If you experience any kind of sewage issue, contact us 24/7 at 602-507-6167. We're here to help!