Can Remodeling Lead to Water Damage in Your Home?
3/5/2022 (Permalink)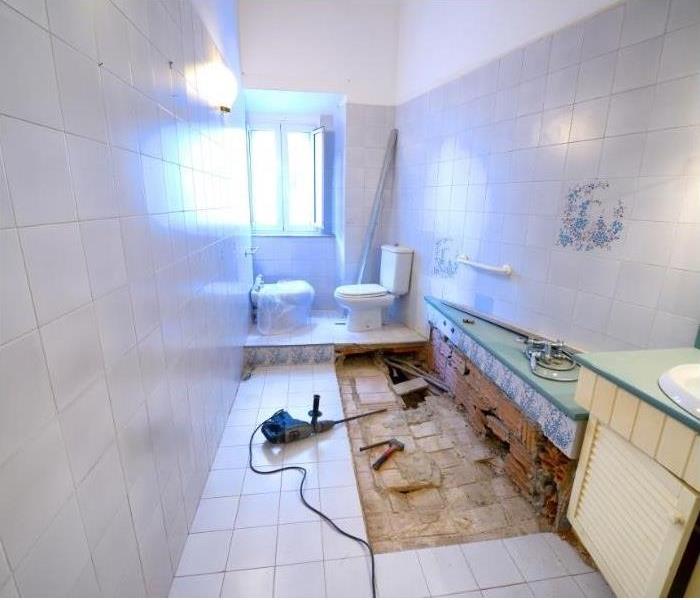 Remodeling can be an exciting upgrade for your home, especially if you're updating an old bathroom to enhance the look of your house. Unfortunately, sometimes even experienced plumbers make mistakes that result in water damage in unexpected places. A bathroom update that results in leaking or poor drainage requires professional help to rectify the situation and prevent further damage. SERVPRO technicians receive training to detect where the water intrudes as well as how to return your home to preloss condition.
What remodeling errors can cause water damage

Water damage after a remodeling of your bathroom is a frustrating outcome. Situations such as a decision to use a diverter spout to add a handheld shower in your classic tiled bath area cause a blowback issue resulting in water spraying inside your wall as well as through the showerhead. Even a small amount of blowback results in significant harm over time. Errors large and small can cause damage to your home. Our technicians help pinpoint the problem and develop a plan to restore the damage. Sometimes a desire to retain the character of the original bathroom drives the decision to add to existing plumbing rather than tear out and replace. Unfortunately, the older pipes need help to connect with modern fixtures. If the connections added, fail to seal and balance water pressure correctly, leakage occurs.
How SERVPRO can help

SERVPRO locates the problem and takes steps to dry out the wet areas. Many bathrooms have a large access panel in an adjacent room, closet, or hallway that we can open to find the leak and then keep open to direct air flow that removes the moisture more efficiently. We work with plumbing contractors to resolve a blowback problem as we dry out the area behind the bathtub and shower. We also follow the path of the water to discover any migrating moisture causing damage to the walls or ceilings below. Older homes often have plaster construction which sheds water more easily than drywall. SERVPRO water damage technicians still develop drying goals to avoid secondary damage like mold growth or disintegration.
Removing moisture after water damage

Air movers, augmented with dehumidifiers, do a thorough job of removing the moisture once the spout is re-installed with proper taping, caulking, or other safeguards preventing further water damage. Bubbled paint or staining restore to the pre-leak condition when touched-up after drying is complete. Our technicians know it's critical to find and stop the leak, remove the moisture, and ensure no further damage occurs to get your house back to normal.
SERVPRO can help with water damage issues

Do not despair if a remodeling project takes an unexpected turn. SERVPRO of East Phoenix has the staff, experience, and equipment to get things back on track. Call for an appointment at (602) 507-6163.