Does Black Mold Have to be Removed Professionally?
5/15/2019 (Permalink)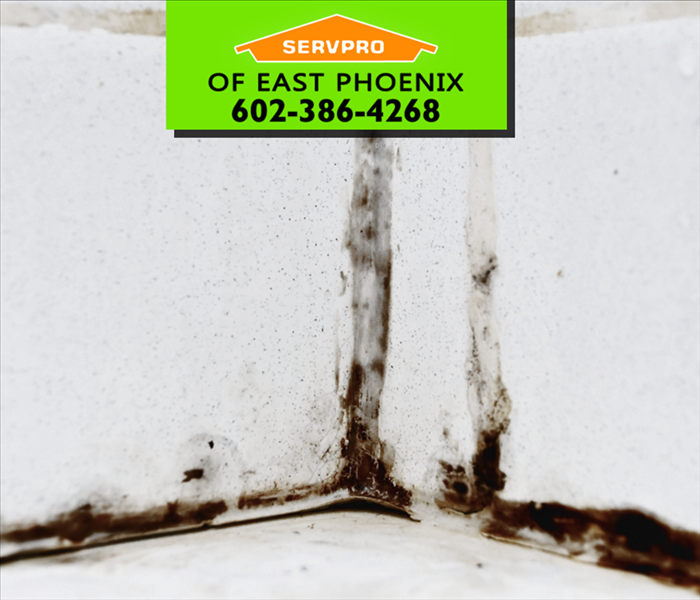 Phoenix home owners and home buyers beware, black mold is toxic and it does require being removed professionally. In fact black mold is normally referred to as toxic black mold, simply because it is extremely toxic to humans.
With the Phoenix monsoon season approaching, Stachybotrys chartarum, a type of toxic black mold, should be something you know about. The toxicity is due to the mycotoxins that Stachybotrys chartarum produces. The micotoxins are microscopic, so if you are not a mold remediation professional, the toxic black mold is very hard to completely eradicate in addition to being dangerous to your health. You'll want a fast response when it comes to toxic black mold remediation.
Hire a Professional for Toxic Black Mold Removal
The mycotoxins can take many years for the human body to break down. In fact, they are known to have been found in the human body for up to 9 years after the initial exposure. Getting a professional mold remediation service provider in Phoenix if you think you have toxic black mold in your home is probably a good idea.
Toxic black mold mycotoxins can cause some very undesirable symptoms and health issues to those who breathe the air around it. Common health issues associated with toxic black mold include respiratory problems, fatigue, mental impairment, immune system suppression, skin inflammation and damage to the body's internal organs.
A Professional Mold Remover Is Protected
What does toxic black mold look like? Well, it's a gelatinous greenish-black substance with a very slimy texture. However, it can be dry and powdery too, should the water source be cut off from the toxic black mold's colony.
So the answer is pretty clear. Yes, if you find black mold in your home or a home you are looking to buy in Phoenix, get a professional mold inspector to address the issue effectively and promptly, like SERVPRO of East Phoenix and our certified techs who are available 24/7, with prompt response time. We will make it like it never even happened.
Author Chris Butas,
SERVPRO of East Phoenix Project Manager
Chris Butas has been with SERVPRO of East Phoenix for more than 15 years as a Senior Estimator and Commercial Project Manager and is an industry authority on mold, including toxic black mold. Chris is IICRC certified as a WRT in water damage restoration and has provided many mold remediation services leaving him with years of experience and undeniable skill.