Addressing Mold Growth in Your Attic
9/2/2021 (Permalink)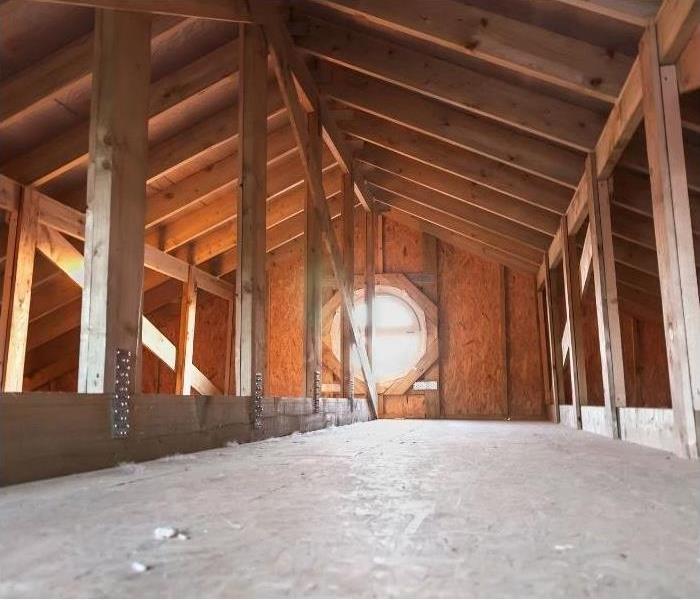 With wet monsoon months in Phoenix, having a leak in your roof can cause problems; sometimes undetected until the damage is substantial. If there is a leak in your roof, water can get into your attic and damage structural components. Attics tend to have higher relative humidity and air temperature (heat rises!) than most other areas of the house, creating an ideal environment for mold growth. Here's how it happens and what to do.
Moisture in your attic
If enough unchecked moisture gets into your attic, mold can develop on the inside of the plywood that forms the roof. If you have mold damage inside your home's attic, the microbes can spread inside the air ducts, and spores can travel throughout the house. The challenge is that most homeowners aren't regularly up in their attic to notice this is happening, which is why it's a good idea to check your attic after substantial rains like those that occur during monsoon season.
What happens once dampness happens in your attic
Once mold gets noticed inside the attic, specific procedures can be taken to remediate the problem. To start, any air intakes that go into the main living area of the house are sealed as well as access doors to protect the home. Depending on the severity of mold growth, the contaminated wood inside the attic can be sanded down to get rid of mold growth on the surface. Air scrubbers get put inside the attic to pull particles out of the air during the sanding stage. When sanding the affected materials, our IICRC certified technicians always follow approved procedures and abide by all government rules and regulations. Our pros endeavor to keep dust to a minimum by extracting the impacted air in the work area and putting it through a HEPA filter. After sanding is complete, our technicians clean up any leftover debris or dust particles. The attic and surrounding impacted areas are then sprayed down with an anti-microbial chemical to prevent future growth. In severe cases, a sealant paint gets sprayed inside the attic to inhibit mold spores from developing in the future. Our techs are diligent about following a proven mold remediation process to get the job done.
Work with SERVPRO for mold remediation
If you suspect mold in your attic, it's best to call in the professionals at SERVPRO of East Phoenix at (602) 507-6163. We are available 24/7 to assist you in addressing the source of the mold and working to clean up your attic to prevent any further damage.