Minimizing Damage to Your Office After a Flood
5/2/2022 (Permalink)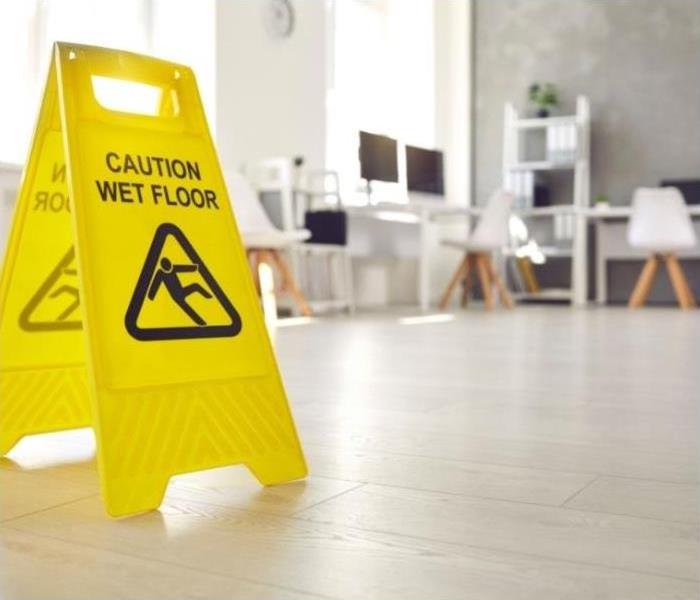 Monsoons and plumbing issues are two notorious ways office buildings experience water damage. If your business experiences a significant water issue such as a burst pipe, the first step most business owners make is to do whatever is needed to stop the water. This keeps damage at a minimum, which is a wise move, but here are a few more tips to minimize damage to your office after a flood.
Move any items that can be impacted by water
If there are rugs or carpets in the flooded area that you can pick up, remove them as quickly as possible. You may want to take them outside and drape them over something sturdy to let the water drain out and dry faster. Water can do a substantial amount of damage in a short amount of time, especially to items that have color or dyes of any kind. Small items should all be picked up and moved. Most things can hang to dry and won't suffer much from water damage if addressed quickly. If any items that are perishable in nature are flooded, it's best to simply dispose of the item to prevent the risk of contamination. This includes food or anything that is quickly impacted by water. Don't take a chance by trying to salvage these; it's not worth it.
Get as much water up as you can until help arrives
Once the floor is clear, you can focus on getting up some of the standing water until SERVPRO arrives. Towels or a mop may be enough to get the mess under control, or you may want to use a shop vacuum if your building maintenance person happens to have one. While the SERVPRO water remediation team will be able to help with water cleanup, the sooner you can remove standing water, the better, until professionals arrive with equipment appropriate to extract all water from the office.
Prop up furniture and other larger unmovable items
Some larger items impacted by water may not be able to get moved out of the water impacted area by the business owner. If that's the case, there are still steps you can take to minimize the damage. Use aluminum foil or small wooded blocks to raise furniture up off wet floors (or whatever is available in your office or office building), especially if it's carpeted to minimize damage. By doing this, you're protecting your furniture from prolonged water exposure and possibly reducing the risk of discoloration of carpeting. Whatever you can do to get larger pieces as much out of standing water as possible will help. Wipe down any wood furnishing that has become damp to potentially minimize warping.
Water damage in an office is always unexpected. Act fast to stop the water flow, then call SERVPRO of East Phoenix at 602-507-6163 to help with water remediation. We're available 24/7 to help with any water emergency you may have and will respond quickly to your call. These few activities while you wait for help to arrive can make a difference in keeping damage to a minimum.