Handling Water Damage in Your Home
4/5/2022 (Permalink)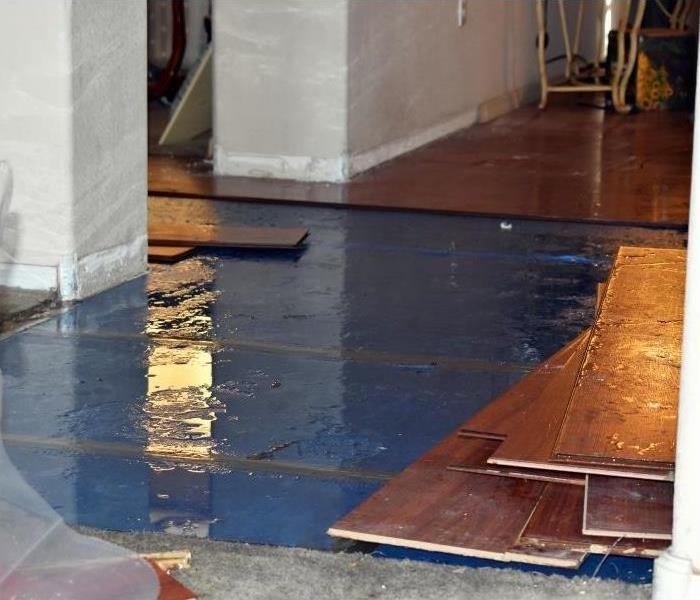 Water damage should always be taken seriously, even if the amount of water doesn't seem substantial. Even if your home experiences a minor leak from a leaky faucet or broken pipes, water has a way of spreading into walls, floors, and other hidden areas, causing unseen damage such as mold and mildew. To ensure the damage doesn't spread, trust a water damage expert to get your home back to new. While you wait for help to arrive, below are some helpful tips to help contain the damage until help arrives from SERVPRO.
Shut off the water source
Safety should always come first. If the water is coming from a pipe, turning off the main water source is imperative since mold can start growing within hours. Depending on where the damage occurs, turn off the electricity as well to reduce risks.
Check for mold and mildew
The main issue resulting from water damage is the growth of mildew and mold. This happens frequently if water has been allowed to sit for a while. These spores quickly grow and spread, even to areas in the home that aren't affected by the water. If left unchecked, it can create more serious issues down the road that could result in having to replace drywall and other items. Even if unseen, if you detect a musty smell, you likely have mold, and it needs to be addressed.
Eliminate the moisture
Water mitigation is an essential part of getting your home back to normal. Along with removing excess water, use fans and dehumidifiers to circulate the air and assist with evaporation. However, if you have visible mold, you should refrain from the use of fans to avoid further spread. SERVPRO water remediation specialists have commercial fans, air movers, and dehumidifiers to get the job done.
Remove impacted materials
Water can shrink and warp porous materials like drywall. All affected carpeting, insulation, fabrics, paper, drywall, and other items should be removed from the area. Along with helping the damaged area dry out, removing these items could potentially save them from having to be disposed of if done quickly. Other times, it may have to be disposed of. Our professionals can advise if materials such as wood flooring or baseboards can be saved.
Disinfect to stop mold growth and odors
Once items have been removed and the damaged area is dry, it's time for some deep cleaning. Any hard surfaces that were touched by water should be disinfected. This will help reduce the chances of mold spreading and odors permeating your home.
Dealing with water damage is tedious, but not addressing early it will make it a much bigger job. While these steps can help reduce the spread of damage, calling the professionals at SERVPRO of East Phoenix can make it "Like it never even happened." If you experience water damage, contact us at 602-507-6163.