Inspect Your Home for Mold After Substantial Rainstorms
2/4/2022 (Permalink)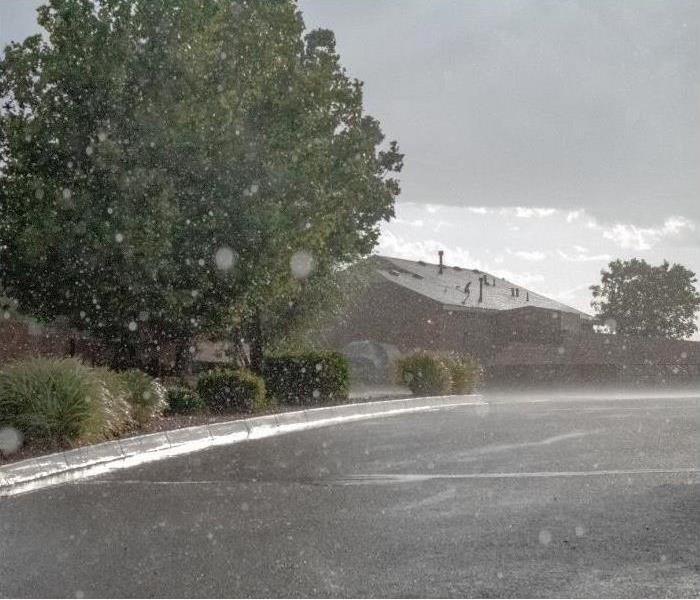 Substantial rains can cause other damage besides water and flooding. Oftentimes, just enough moisture seeps into a wall, ceiling, or floor to create mold. It may happen right away, or water may stand for a while, allowing mold to grow and spread. If that water stood for any length of time in your home after a rainstorm, you need a mold inspection.
Look for the signs of mold in your home
Even if the water damage was addressed quickly and no visible water damage was found, your home may still have mold growth. Even if you don't always see the mold, a musty smell, and an overall feeling of dampness, even after the water leak was repaired, is a good sign you may have mold issues. If you suspect mold growth or have noticed a mold colony in your home, you have a mold problem! The problem needs to be addressed. Call in a professional service like SERVPRO of East Phoenix which specializes in mold remediation for help.
SERVPRO's mold remediation process
What most people don't know is that mold spores are present everywhere: indoors and outdoors. Services that claim "mold removal" services are misleading. What your home needs is mold remediation, where specialists come in and detect mold, use a variety of containment procedures to contain the mold to keep it from spreading any further, and then proven treatments to eliminate mold colonies and help prevent new colonies from forming. It may be necessary to remove mold-infested materials like drywall and carpeting to remediate heavy mold growth; SERVPRO professionals will advise you on whether or not that's necessary so you're aware of it before we do anything. It's important to work with a professional who understands the mold remediation process and can address your unique situation to ensure you're getting the issue resolved quickly and correctly.
Call SERVPRO if you experience mold in your home
If your home has experienced a water leak from rainstorms, you may get mold growth. Work with a water and mold specialist like SERVPRO of East Phoenix who will come in and not only handle water damage repair and restoration, but do mold remediation to ensure you don't experience any additional problems this monsoon storm season. Early remediation helps prevent stubborn mold infestations. Call SERVPRO of East Phoenix at (602) 507-6163. We are available 24/7 to offer help with your mold issues.