Prevent Flood Water Damage by Fixing the Toilet
5/6/2019 (Permalink)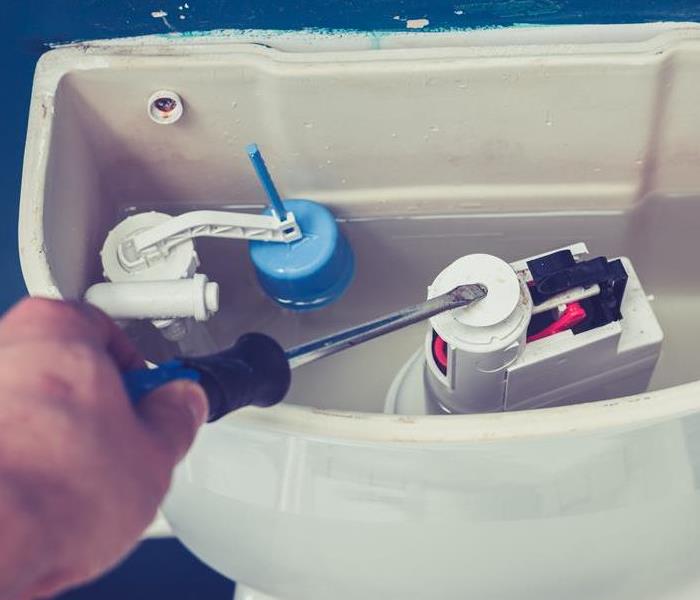 When you hear that constant, running noise coming from your toilet, be warned and fix it as soon as you can, or you will eventually be risking expensive water damage caused by a flooding toilet.
Typically, that annoying sound is the result of something simple, like a small part that just isn't functioning properly, so it's very helpful to have some understanding of how a toilet tank works, so if needed, you can fix it yourself, therefore avoiding any flooding of your home.
A flooded bathroom can be unnecessarily pricey. The techs at SERVPRO of East Phoenix see it all to much, a leaky toilet running up the water bill while wasting too much water. With a septic system and a leaky toilet, there is a good chance that an overflowing toilet was the cause of the water leak and a steady flow of water will flood the septic tank while causing the drain to fail leading to a high priced repair bill. So, SERVPRO of East Phoenix has some tips on preventing water damage caused by a malfunctioning toilet tank.
No Water Damage When You Adjust the Toilet Fill Valve
Adjustments to the fill valve are needed if the toilet stops flushing due to not having enough water in the tank. Sometimes the valve is set too high and the water won't shut off leaving you with more than a flooded bathroom. Use a flat-head screwdriver to turn the screw on the top of the fill valve clockwise so that the float raises to increase the amount of water needed for the valve to shut off. Or turn the screw counterclockwise to lower the arm, decreasing the amount of water needed to shut off the valve.
Old Toilet Flapper Causing Bathroom Flood?
Replacing a leaky toilet flapper is generally an easy project. If a flapper is over 5 years old, it's time to change it in order to avoid the cost and havoc with an flapper that's all warped from age. If the flapper less than 5 years old, look around the rubber surface for slime or debris and wipe it clean with wash-rag. Trim any excess chain if it is inhibiting the proper way the flapper is supposed to sit. The trained professionals here at SERVPRO of East Phoenix urge you NOT use chlorine tablets in your tank as this will warp the flapper in no time.
Malfunctioning Flush Valve Leads to Water Damage
Over time, the flush valve will become corroded and warped causing water to slowly leak into the bowl which in turn causes the tank to refill. There are all kinds of tutorial online on how to replace a warped toilet flush valve, but be sure to first turn off the water supply to the toilet by turning the valve next to the base of the toilet while holding the toilet handle down so that the tank drains of all water.