Keeping Your Business Protected During Storm Season
6/27/2022 (Permalink)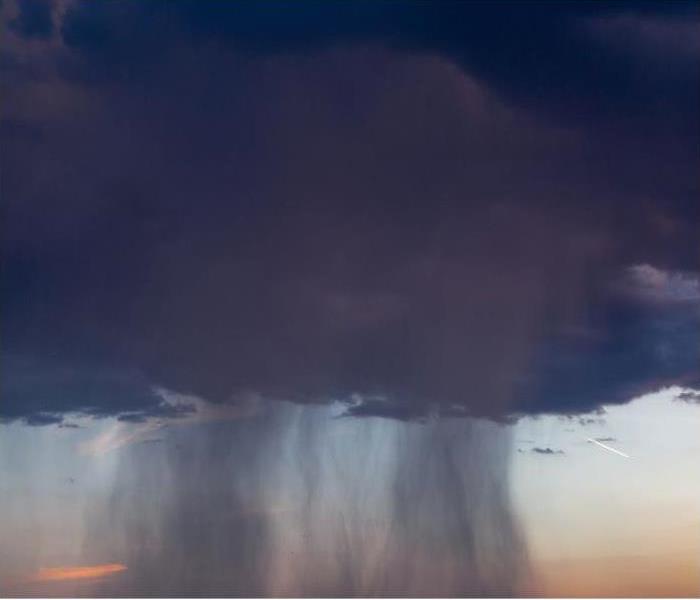 Monsoons will be here before you know it, and it's a good time to brush up on some storm safety tips for your business that you can use so you're not caught off guard and can protect your building from damage and what to do if you need storm damage assistance.
Monsoons in and the damage they cause
Monsoons can be quite spectacular, but severe thunderstorms produce alarmingly heavy winds and lightning strikes, not to mention flooding; all of which can impact your office building. Sometimes, flash flooding, power outages, and property damage can result from such weather. Take note of these suggestions to protect your office building.
Prepare during the monsoon season
When monsoon season is happening, residents and businesses alike usually get a bit of a heads up when a storm is approaching, as well as how damaging it can potentially be. When a watch is issued, it means that conditions are right for substantial storms to develop. Tune into your radio or TV often for up-to-date information, and use this time to prepare your office building for a storm:
Review the community's emergency warning system and procedures so you know what to watch for.
At your business, go over company policy for severe weather safety with all employees.
Secure loose equipment, signage, or furnishings around your building.
Don't hold an event even if a storm appears mild as they can build momentum easily and grow.
Once a warning is in effect, your preparations to your office building will improve safety throughout your business and hopefully avoid or minimize damage.
Stay indoors during the storm
Most monsoon storms move on within an hour or so or become less dangerous after the initial impact. Regardless of how long the storm takes to pass or subside, plan to stay put until the high winds, lightning, and heavy rain or hail are over. It may be tempting to tell employees to go home to shelter, but it's best for everyone to stay put until the bulk of the storm has passed. While waiting for the danger to pass, take appropriate safety precautions:
Close doors and windows and stay away from windows, glass doors, and skylights in your office building.
Avoid standing near electrical equipment, including electrical telephones, and don't work on any electronics during a storm.
Move away from plumbing systems that may burst.
Unplug any electronics as possible until the storm passes, especially during lightning storms
Pay attention to weather updates
While it may seem like a mild monsoon storm, lightning and other situations caused by the storm can do you harm, so don't take unnecessary chances by walking or driving around during a storm if possible. Even once the storm has passed, there's the potential for flooding, debris in roadways, downed electrical lines, and more. Stay tuned to local news for updates on hazardous conditions.
Contact SERVPRO if you experience monsoon damage
It's a good idea to have a reputable storm remediation company's information on hand during monsoon season so you can get help recovering quickly for your business. SERVPRO of East Phoenix specializes in storm damage cleanup and restoration. Available 24/7, we can help you get your home or office back to normal. Contact us at (602) 507-6163 to get the help you need.