Phoenix's Fire Damage Cleaning Techniques Explained
4/22/2018 (Permalink)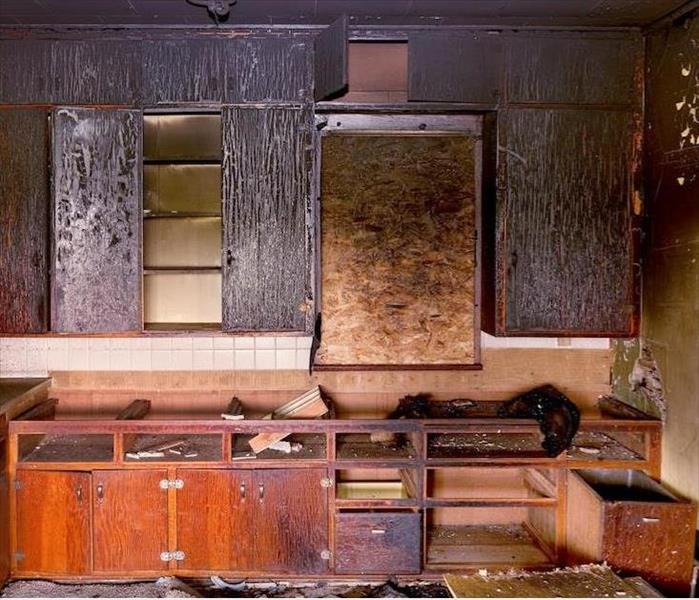 When soot residues and charred items remain after a fire, contact SERVPRO for remediation services immediately after you are in a safe area.
SERVPRO Technicians Use Three Main Soot Cleaning Methods
Whenever a fire burns inside your Phoenix home, there are several different types of damage that possibly happen. Heat and flames burn structural materials and contents sometimes forcing them to get replaced. Smoke coming from the fire can leave behind soils, soot residues, and foul smells.

If the fire damage is real severe, then many items may get removed and replaced. SERVPRO's fire damage technicians in Phoenix attempt to restore and clean materials and contents because it is cheaper than removal. If we use the right chemicals, we can clean and restore items that receive damage from smoke.

When removing soot left behind from a burn we often use multiple methods. Soot coming from burning different fuels has different compositions. Some soot residues are hard to remove whereas some are easily wiped off.

The type of material damaged also makes a difference when it comes to cleaning. Some surfaces soot does not adhere to real well and can be easily cleaned. Other material surfaces combing well with certain types of soot and cleaning is nearly impossible.

When cleaning soot off of different types of walls, there are three primary methods. The three main cleaning methods for removing smoke damage are dry cleaning, wet cleaning, and peroxide-based cleaning.

For light to medium non-grease based soils, dry sponges seem to work well. The sponges get used either by hand or with a long pole for high areas. The sponge is made to attract soot residues so that they stick to the sponge instead of the walls.

In some scenarios, wet cleaning methods work better. In this case, we use soapy water and rags to scrub the walls and ceilings. Wet cleaning works best when cleaning painted, wood or metal surfaces. This method works with heavy dry ash or soot residue and light to heavy oil-based residues.

When cleaning specific materials, peroxide-active cleaning methods get used. Peroxide cleaning works when removing soot from acoustical ceiling tiles. For professional assistance removing soot, call SERVPRO of East Phoenix at (602) 507-6163 24/7.

Click here for more information on the city of Phoenix.